School of Rock Reimagined
Musically talented staff take their hobbies to the next level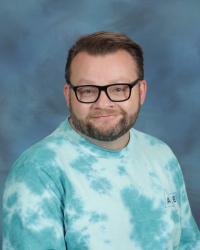 Besides working together, what unexpected secret do John Sherrod, Steven Jolly, Josh Fly, and Ron Fisher have in common? No, they don't do acrobatics. No, they don't raise llamas. And no, they don't all have bald heads (though that isn't much of a secret for Sherrod or Jolly). They all, however, play in bands. 
That's right—despite working together as educators full-time, all four of these men make music. Jolly, who teaches World Geography, plays in Oldie Hawn with Sherrod, who teaches U.S. and World History. 
"The band was started in 2018 just as something fun to do," Jolly explained about Oldie Hawn. "All the members have been in different bands on and off for the past 10+ years and enjoy doing it enough to keep it going."
Fly, a Special Ed Paraprofessional, and Fisher, the Director of Discipline and Security, have played in the Staples Street Band for three years, along with Principal James Crenshaw and Intervention Specialist Norma Fisher. 
"I'd always wanted to play in a band but never got the chance until I met Ron, Norma and James," Fly said. "Music has been a part of my life since I was very young and will always be, so why not share it with as many people as I can."
Before the pandemic disrupted operations, both bands met respectively once a week for practice and booked gigs on a monthly basis. Under current circumstances, neither group is performing, but they are hopeful to see a change in the near future. 
"We are now looking at our first gig since COVID in March 2021," Fisher said. 
Balancing practice, gigs, a job, and other hobbies may seem difficult, but these musicians feel that their bands are an integral part of their daily lives. They explain that making time for something you love isn't an issue, and their jobs as educators offer practical, flexible schedules to plan around. 
"Compared to other types of jobs, teaching is fairly conducive to being in a band," Sherrod said. "We get a good amount of time off and we have a set schedule, and weekends off, which makes scheduling shows, practice, and recordings a little easier."
Fisher also shared his thoughts on the work-band balance. 
"I don't think it's difficult to balance both things [work and band]," he said. "I enjoy both, so they are equally important to me."
Making music is something that has been a constant in the lives of Sherrod, Jolly, Fisher, and Fly. Most of them got their start at a young age, developing a passion for their instruments, and joining bands. 
"I started playing on the piano when I was 7 years old and started taking lessons when I turned 8," Fly said. "I continue to make and play music because it makes me feel good and others who listen to it feel the same."
Both Fisher and Fly became involved in music by learning to play the piano. From there, Fisher began playing the drums, and Fly continued with piano. The next step for both of them was becoming involved in bands. 
"I've played with bands on and off throughout my life," Fisher said.
Similarly, both Jolly and Sherrod started playing the guitar at young ages and became involved in bands later on. Currently they both play the guitar, though Sherrod also sings occasionally. 
"I have enjoyed music ever since I was little, but started playing in bands right after finishing high school," Jolly said. 
Sherrod started learning to play the guitar when he was 13, and started his first band at 14. 
"I think I've always had an interest in music for as long as I can remember," he said. 
When it comes to why they love music, all four men agree: it simply makes them feel good. Having a creative outlet through which one can express themselves completely is sacred to these musicians. 
"Music has always been a way for me to relieve stress," Sherrod said.
Despite the challenges of COVID-19 and busy schedules, the "School of Rock" is here to stay. 
"Music is an everyday part of my life," Fly said. "It's not just a hobby."